The residence at 30 Bayles Street was The Lord Mayor's home built in 1888.
'During World War ll, while on leave and camped in Royal Park, some servicemen visited/frequented 30 Bayles Street, Parkville, then an illegal brothel.'
Later it became a boarding house and was purchased subsequently by The Archdiocese of Melbourne in 1957.
Now extended and restored to its Victorian magnificence, it is a great place for a party.
Our Parish and Patron
The area of this Parish was originally within the boundaries of St. Mary's Parish, West Melbourne.  The Church was built as a Chapel-of-ease of St Mary's.
The site of the Church was previously occupied by stone masons making headstones for the Melbourne General Cemetery. Mr Jaguers gave the land for the Church.
The foundation stone was blessed and laid by the then Archbishop of Melbourne, Dr. Daniel Mannix on the 14th October, 1934, under the patronage of St Carthage.
The building was completed in 1935 and the area of Parkville remained part of the Parish of St Mary's for the next 22 years.  In November 1956, the new Parish of St. Carthage, Parkville was established independently of West Melbourne.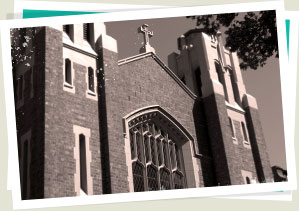 St Carthage is the patron of saint of Lismore, County Waterford in Ireland.  He is known for his great reverence for the House of God and was responsible for the building of several famous schools and monasteries. St Carthage spent much of his life in instruction,by preaching and example, of those who came to him.
He was born in County Kerry near Castlemaine in 564. While still a young boy herding pigs, he was drawn to follow St Carthage the senior and his monks, who passed by him chanting the Psalms.  He was passed into the care of the older Saint, Bishop of Castlemaine, to be educated, and was eventually ordained a Priest.  He followed the monastic discipline of solitude, fasting, prayer and study.  He died in the monastery at Lismore after giving a blessing to his monks and students, on the 14 May, 637 (f.d)