We regret to announce that for Covid related reasons, we have had to defer to a later date the presentation Celebrating St Carthage, patron of refugees, scheduled for this Sunday afternoon (15 May). With profound apologies,                                                                                                                    Constant Mews
Celebrating St Carthage, a patron for refugees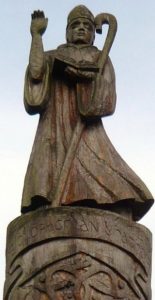 This celebration of music, poetry and history celebrates the feast-day of our patron saint (Carthage/Carthach), also called Mochuda (d. 14 May 637). Less well-known than St Patrick or St Brigid, the story of Carthage and his concern for outsiders deserves to be told. A native of Kerry, he established a community at Rahan in central Ireland where he attracted lepers from every region.  Hostility from other communities, however, led to Carthage and his followers being forced to take refuge in Lismore, in south-east Ireland. This event, organized by Constant Mews and Chris Watson, celebrates the memory of this remarkable saint not just in Ireland, but here in Australia. It also involves Irish harp music (by Cath Connolly) and song (Maryna Mews). Refreshments will be offered immediately following the event. Cath Connolly will stay on to play the harp at 5.00pm mass.  No admission fee, but there will be a collection to support the Diocese of Lismore Flood Appeal, NSW, where the community around St Carthage's cathedral has been much affected by flooding.
For St Carthage's Parish Dinner details please view page – St Carthage's Parish dinner 2022 – St Carthage's Parish Parkville (stcarthagesparkville.org.au)
EVENT AGENDA
Celebrating St Carthage, Patron of Refugees
Sunday 15th May 2.30pm, 2022 (Initial date Set)
 Presented by Constant Mews & Chris Watson,
Cath Connelly (harp) and Maryna Mews (voice)
1. Acknowledgment of country and introduction to St Carthage (Mochuda) [CM]
2. Elegy to Rob Roy McGregor; Winter Solstice (trad./CC) [CC]
3. Carthage's founding of Rahan and concern for lepers [CM]
4. Carolan's Welcome; Brian Boru (Carolan/ trad.) [CC]
5. Poems from the times of St Carthage [CJW]
6. The flight of St Carthage and his lepers from Rahan to Lismore [CM]
7. Mo Ghrá'sa, mo Dhia (My Love, My God) [MM]
8. St Carthage in Australia: from Lismore to Parkville [CJW]
9. Martine's Joy / Bell Table Waltz (CC/Hanrahan & Lennon) [CC]
10. An Irish Litany of the Saints [CJW]
11. Ag Críost an Síol (To Christ the Seed) [MM]
All are invited to light refreshments immediately after the presentation. There will be a closing collection for the Diocese of Lismore Flood Appeal, NSW.
Cath Connelly has been playing the Celtic harp professionally since 1998. She is a professional Celtic harpist who performs, records, teaches and facilitates harp and spirituality workshops across the globe To complement her music, Cath's performances often include stories describing Celtic traditions, music and folklore. With a background in counseling, pastoral care and spiritual direction, she is an experienced workshop facilitator and retreat leader.
Maryna Mews is an editor and writer. She studies singing with David Ross-Smith.
Constant Mews (Chair of the Pastoral Council, St Carthage's) and Chris Watson taught at Monash and La Trobe Universities respectively, and have collaborated in studying early medieval Ireland and the legacy of St Carthage.