St Carthage's Church is situated at 123 Royal Parade, Parkville, directly opposite residential colleges of The University of Melbourne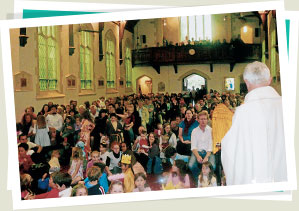 It is a popular parish with academics, current students and alumni of the University. Of course, St Carthage's Parish welcomes, and
holds/sustains, people from all walks of life. The congregation gathers from 132 suburbs of Melbourne.
The first priority of the Parish is to provide helpful Liturgy and a high standard in preaching.
People of the University must be able to bring their standards of excellence in their diverse fields of study to a community that searches and explores a quest for faith in today's world.
The congregation of around 1000 people, gathers at three Sunday Masses, each with a distinctive focus be it reflective, family centered, or, a Celebration of the Eucharist for students in particular.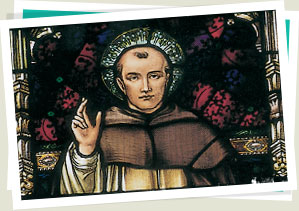 The Parish group has a wide variety of group activities such as St Vincent de Paul Conference, the Feminist Theology Group, the Men's Reading Group, the Women's Review of Life and Prayer Group, the Children's Liturgy Group and the Parish Hospitality Group.
The Presbytery and Parish Centre at 30 Bayles Street, Parkville is frequently used by all Parish organisations and is also a place for hospitality.
The New Parish Crest
The crest was designed to represent various aspects of the Parish life.  The motto, "God's Providence is our inheritance", is the motto of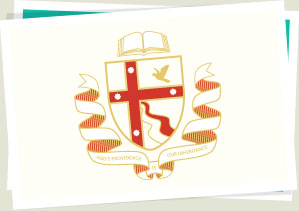 Lismore in Ireland.  The red cross makes an allusion to the emblem of the Royal Melbourne Hospital.  The gold stars of the Southern Cross, a traditionally Australian symbol, are also found on the crest of The University of Melbourne.  The Parish has a long association with both institutions.
The book indicates the Bible and study.  The sparrow is referred to in Psalm 84, "Even the sparrow finds a home".  The blood and water flow from the Cross as the life of the Church, evoking images of the Eucharist and Baptism.