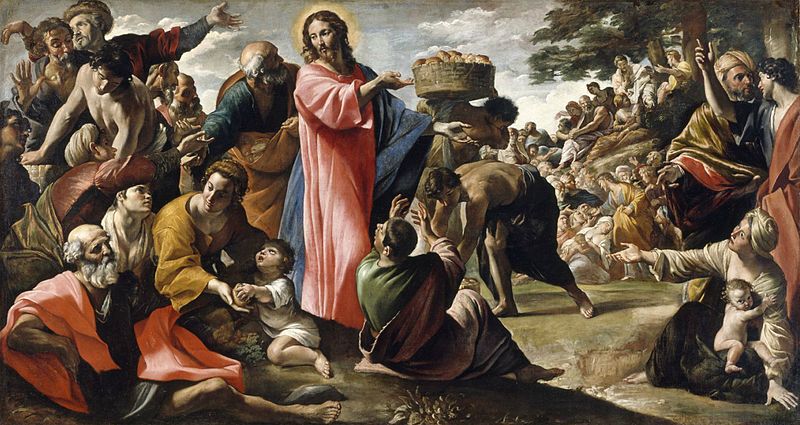 Mass of Day with Lectionary and Missal texts of Sunday Ord Time 17 Yr B
First Reading: 2 Kgs 4:42-44. Elisha feeds a hundred people with twenty loaves.
Responsorial Psalm. The hand of the Lord feeds us; he answers all our needs.
 Second Reading: Eph 4:1-6. Live a life worthy of your calling
Gospel Acclamation: Alleluia, alleluia! A great prophet has appeared among us; God has visited his people. Alleluia!                                                                           Gospel: Jn 6:1-15. Jesus feeds five thousand
Homily
Well friends, once again we find ourselves in lockdown. So many plans lie in tatters and we all experience some sense of disappointment. COVID certainly highlights the fact that we – we are limited and that we can't do everything that we want to do – so many things are impossible.
But it is not so with God- for God all things are possible. And God answers our stories of limitedness with another story of plenty and abundance.
This is beautifully illustrated in the Gospel today- we are told that a large crowd has gathered to listen to Jesus and Jesus says to the apostle Philip, "Where can we buy some bread for these people to eat?" He didn't say anything about money but Philip immediately sees the limitation- two hundred denarii- that's about six months' salary  and that wouldn't even give them enough to eat. It's impossible!
Then Andrew points out a small boy in the crowd- again amongst five thousand – one little boy this is surely another symbol of limitedness and inadequacy – then almost comically the boy produces five pieces of bread and a couple of sardines- this is hilarious there are five thousand people to feed- It's impossible!
But we know the story- Jesus blesses the food and hands it out- everyone has enough to eat and there are stacks of leftovers.
The little that the people had was impossible to feed them and to address their needs- but when they took the little they had and handed it over to Jesus there was more than enough for every-body.
The Gospel then calls on us to hand all that we have – with its limitations and shortcomings, with its inadequacies and failings, with its sadness and grief- and hand it over to Jesus. And Jesus will not only fill our deepest hungers and quench our greatest thirsts but will do so with reckless abandon and with an abundance that we could barely even imagine. All we need to do is trust.
 Fr Joe Caddy