THIRD SUNDAY IN ORDINARY TIME YEAR C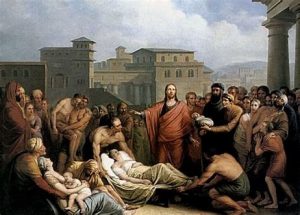 Entrance Antiphon
O sing a new song to the Lord;
sing to the Lord, all the earth.
In his presence are majesty and splendour,
strength and honour in his holy place.
First Reading: Neh 8:2-6. 8-10. Ezra reads from the book of the Law.
Response: Your words, Lord, are spirit and life.                                                                
Second Reading: 1 Cor 12:12-30. One body, many members.
Gospel Acclamation: Alleluia, alleluia. The Lord sent me to bring Good News to the poor and freedom to prisoners. Alleluia!
Gospel: Lk 1:1-4. 4:14-21. Jesus announces the fulfilment of Isaiah.

REFLECTION by Greg Sunter
This week marks the beginning of the liturgical use of the gospel of Luke that will feature throughout this year. The choice of passage to begin our journey with Luke is most appropriate. We have the first four verses of the gospel in which the writer makes his purpose clear. We then skip over all the infancy narrative and pick up again in chapter 4 of the gospel where Jesus makes his first public appearance.
Jesus returns to the synagogue in which he has worshipped all his life. He is given the scroll of Isaiah to read and reads the first two verses of Isaiah, chapter 61. But in the middle of this passage he flips back to chapter 58 of Isaiah and reads an additional line, 'to set the downtrodden (oppressed) free'. This event in Nazareth is sometimes referred to as Jesus' inauguration or declaration of mission. The inclusion of the additional verse from Isaiah signals very clearly the way in which Jesus will be portrayed throughout this particular gospel. The gospel of Luke is characterised by the focus of Jesus' mission on the outcast; the oppressed; the downtrodden.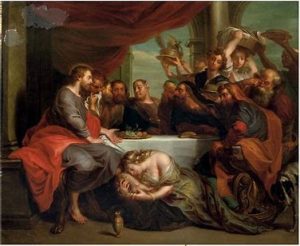 The gospel of Luke is often described as a gospel of compassion. Throughout the gospel we see Jesus enact the verses from Isaiah – bringing good news to the lowliest of society; inviting the least to share in the reign of God. In fact, having read from the scripture, Jesus' very simple homily on the text is 'This text is being fulfilled today even as you listen'. Jesus declares himself to be acting out and fulfilling the prophecy of Isaiah. This short extract from Isaiah that Jesus adopted as his own 'mission statement' is indeed a mission statement for all Christian people. This is what we too are called to do.
Act Of Spiritual Communion
My Jesus,
I believe that You are present in the Most Holy Sacrament.
I love You above all things,
and I desire to receive You into my soul.
Since I cannot at this moment receive You sacramentally,
come at least spiritually into my heart.
I embrace You as if You were already there
and unite myself wholly to You.
Never permit me to be separated from You.
Amen.