Parish News on 30/12/2020!
St Carthage's Church is now set under current regulations with 100 seats.

Face masks are now compulsory when inside the church.

First Communion Programs dates for 2021 have been set – Please check Celebration Icon on this website Home Page. 
Fr. Michael Elligate
Parish Priest
———————————————————————————-
Christmas at St Carthages 2020
Celebrated in St Marys University College Courtyard
Just on 1600 people attended our Christmas Eve and Christmas Day Masses. The alfresco setting amongst the trees in St Marys College courtyard enabled 300 people at a sitting attending the series of Masses.
Music was shared by Roger and Anne Rassool, The St Carthage's Music Group, Juliette and Rick Noorwood.
 Jonathan Clayton arranged for comfortable seating and Sr Heather led members of the Parish Council in greeting people on arrival, ensuring that hands were sanitised and tracing details recorded under the current Government regulations.
People were excited and happy to see one another again. It certainly said much about the bonding amongst our parish community.
We returned to the Church for both advent Masses and weekend Masses during January.
At the moment 100 distanced seats are sufficient as holiday time sees many parishioners out of town.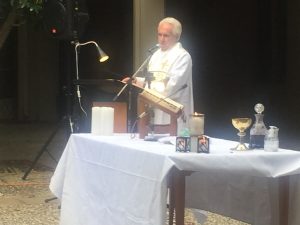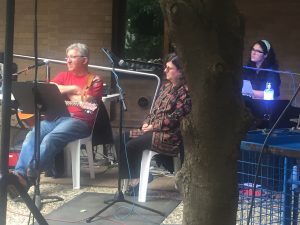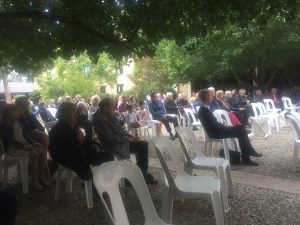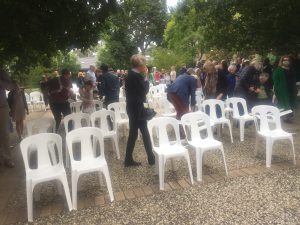 ———————————————————————————-
03rd Sunday of Advent Effective Saturday 12th & Sunday 13th Dec 2020
St Carthage's Church is now set under recent regulations with 100 seats.

Face masks are now optional when inside the church, but people must carry a face covering at all times in case a distance of 1.5m cannot be maintained, either inside or outside, then face covering must be worn (unless they are people that live with each other, or have a lawful reason, or are children under 12 years of age). 

Next Sunday evening 20th December 2020, an ensemble from the Australian Chamber Choir will sing at the 5:00pm Mass.

Christmas Masses at St Mary's University College, Swanston Street, Parkville.

Christmas Eve: 5:00pm, 6:30pm, 8:00pm & 9:30pm

Christmas Day: 8:30am & 10:00am
———————————————————————————-
02nd Sunday of Advent Effective Sunday 06th Dec 2020
We opened the Church doors for Masses last weekend. There was room for 60 people and attendees at the various Mass times was usually between 40-50.

These photos below indicate that the government regulations require distance between 60 allocated chairs. 

Parishioners and friends are reassured that the small numbers do not seem to make the church a threat to health and personal security.

Advent Masses are celebrated on:

Saturday at 4.30pm & 6.00pm.

Sunday

Morning at 8.30am & 10.00am.

Afternoon at 5.00pm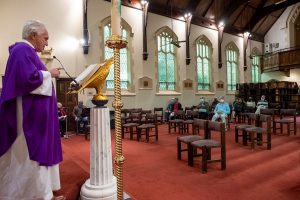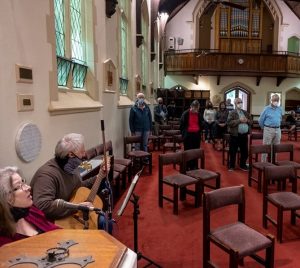 ———————————————————————————-
Effective Sunday 29th November 2020
Welcome back to St Carthage's Church:

The setting looks a little sparse as we conform to the COVID-19 regulations. We hope more seats will be added before Christmas.

Masses at St Carthage's Church during the four Sundays of Advent will be:

Saturday 4.30pm & 6.00pm.

Sunday 8.30am, 10.00am, 5.00pm & 6.15pm.

Remembering our deceased parishioners:

During the time of the lockdown some of our parishioners and friends have died. We recognise and honour them and their loved ones on the porch notice board.

Columban Calendar:

This is the time of the year when we may support the Columban Mission Team by purchasing their Catholic Art calendar. $7.00 on table near entrance to the Church.
Christmas Masses:

Will be celebrated at St Marys College, Swanston Street, Parkville (City side of Newman College). Please note the venue has changed as Wilson Hall could not be used.