FIRST SUNDAY OF ADVENT YEAR A
To you, I lift up my soul, O my God.
In you, I have trusted; let me not be put to shame.
Nor let my enemies exult over me;
First Reading:. Is 2:1-5. A reading from the prophet Isaiah
The Lord will gather all nations in eternal peace in the kingdom of God.
The vision of Isaiah son of Amoz, concerning Judah and Jerusalem.
In the days to come the mountain of the Temple of the Lord
shall tower above the mountains and be lifted higher than the hills.
All the nations will stream to it, peoples without number will come to it; and they will say:
'Come, let us go up to the mountain of the Lord, to the Temple of the God of Jacob
that he may teach us his ways so that we may walk in his paths;
since the Law will go out from Zion, and the oracle of the Lord from Jerusalem.'
He will wield authority over the nations, and adjudicate between many peoples;
these will hammer their swords into ploughshares, their spears into sickles.
Nation will not lift sword against nation, there will be no more training for war.
O House of Jacob, come, let us walk in the light of the Lord.
Responsorial Psalm: Let us go rejoicing to the house of the Lord.
Second Reading: Rom 13:11-14. A reading from the letter of St Paul to the Romans
The time has come, our salvation is near.
You know 'the time' has come: you must wake up now: our salvation is even nearer than it was when we were converted. The night is almost over, it will be daylight soon – let us give up all the things we prefer to do under the cover of the dark; let us arm ourselves and appear in the light. Let us live decently as people do in the daytime: no drunken orgies, no promiscuity or licentiousness, and no wrangling or jealousy. Let your armour be the Lord Jesus Christ.
Gospel Acclamation: Alleluia, alleluia! Lord, show us your mercy and love, and grant us your salvation. Alleluia!
Gospel: Mt 24:37-44. A reading from the holy Gospel according to Matthew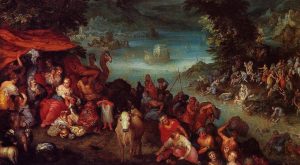 Stay awake, you must be ready.
Jesus said to his disciples: 'As it was in Noah's day, so will it be when the Son of Man comes. For in those days before the Flood people were eating, drinking, taking wives, taking husbands, right up to the day Noah went into the ark, and they suspected nothing till the Flood came and swept all away. It will be like this when the Son of Man comes. Then of two men in the fields one is taken, one left; of two women at the millstone grinding, one is taken, one left.
'So stay awake, because you do not know the day when your master is coming. You may be quite sure of this that if the householder had known at what time of the night the burglar would come, he would have stayed awake and would not have allowed anyone to break through the wall of his house. Therefore, you too must stand ready because the Son of Man is coming at an hour you do not expect.'
HOMILY by Fr Michael Tate
Wake up to the Poetry
During World War II, my father fought in North Africa and in what is present day Israel, Palestine and Syria. He never spoke about any particular battle. This is common amongst those who have actually been to war.
Perhaps they know the shock to the human spirit which comes from being caught up in large-scale organised killing, and so they often remain mute about what they experienced.
That is why Isaiah's prophecy of a world in harmony with God's plan for humankind has resonated so strongly for thousands of years. The imagery he conjured up has expressed the aspiration of generation after generations:
'[the nations] will hammer their swords into ploughshares, their spears into sickles.
Nation will not lift sword against nation, there will be no more training for war.'
When the Risen Lord Jesus Christ is ready to incorporate the whole saga of humanity into heavenly glory, of course Isaiah's vision will be a feature of our way of existence – no more wars, no more armed conflict tearing apart bodies and minds and societies and nations.
When will this come to pass? Our Lord says we can't know any more than a householder knows when a burglar will suddenly target a family home. But, in the meantime, Our Lord wants us to 'be awake'.
A fridge magnet issued by a previous government used to exhort us to 'be alert but not alarmed'. That expresses something of today's gospel message because Our Lord is saying 'Don't panic about the future. God, but only God, knows its timetable. But don't make that an excuse for being lazy and lethargic, sluggish and sleepy.'
Be awake, rouse yourself, because our task in the interim is to get on with actions which can help bring about a human society already beginning to match Isaiah's vision.
And that includes the question of the waging of war. In the last few decades, the Church has grown more and more sensitive to this question.
If you look in the Catechism, you will find that the Church's official teaching is very restrictive and tersely worded. This is shown, for example, by speaking of the necessary conditions for a defensive war, rather than using the traditional just war language.
Matters have become acute with the illegal invasion of Ukraine. Cardinal Parolin, the Secretary of State for the Holy See has said that defensive warfare is justified as a last resort until some sort of negotiated settlement can be achieved.
But, let us return to poetry. Our Lord loved to unfurl the scroll of the prophet Isaiah in his local synagogue. Who can doubt that his imagination was fired by the poetic image of swords being hammered into ploughshares? Of course, he renounced the use of violence to throw off the despotism of Rome and its occupying army.
Another poet, Karol Wojtyla, spoke to the Church in his age. Precisely in the context of writing on life and death and warfare, Pope John Paul II went to the heart of the matter.
What is at stake when a human being is killed in armed conflict? Indeed, who is a human being? Here is that Pope's description in poetic, but theologically accurate, terms.
' … although formed from the dust of the earth,
[a human being] is a manifestation of God in the world
a sign of his presence, a trace of his glory.'
The Pope spoke in anguished terms of killing such a magnificent creature, even in the course of 'justified' warfare. [Repeat the quotation]
Let us adopt this portrayal of a human being so beautifully crafted by John Paul II and let us wed it to the poetry of Isaiah.
Let us keep wakeful and energetic in striving to bring the world into harmony with God's plan for its consummation in glory.
Let us be alert and dynamic in furthering God's plan for humanity, the plan already inaugurated by